演讲 | 英国首相梅姨联合国演讲,练习地道英式英语的素材来啦!(附音频&演讲稿)
2017-10-03 00:19 来源:蔡雷英语 英语 /麻省理工学院 /模拟联合国
原标题:演讲 | 英国首相梅姨联合国演讲,练习地道英式英语的素材来啦!(附音频&演讲稿)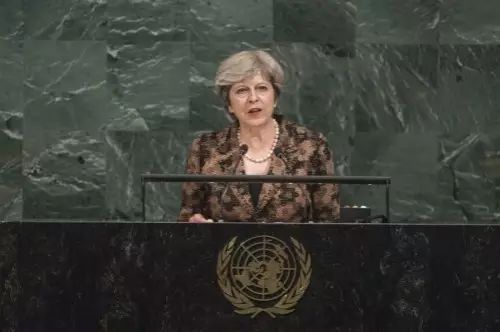 第72届联合国大会一般性辩论19日在纽约联合国总部开始举行,今天推荐的就是梅相在72届联大一般性辩论的演讲材料,既可以练口译,又可以练听力~
演讲文稿(仅供参考)
Mr. President, Excellencies, ladies and gentlemen, I would like to begin by expressing my sincere condolences to the government and people of Mexico following the devastating earthquake. I also want to reiterate my sympathies to those affected by the recent hurricanes in the Caribbean. Our thoughts are with them all at this time.
As we meet at this General Assembly we face challenges that go right to the heart of who we are as nations. Challenges that test our values, our vision and our resolve to defend the rules and standards that underpin the security and prosperity of our fellow citizens. As I argued in my speech here last year, many of these challenges do not recognise or respect geographical boundaries. I think, of course, of the terrorism that has struck so many of our countries including my own 5 times this year. And fuelling that terrorist threat the increasing numbers being drawn to extremist ideologies not only in places riven by conflict and instability, but many online in their homes thousands of miles away from those conflicts. I think of the climate change which is depleting and degrading the planet we leave to our children.
And I think of the vast challenges that come from the mass displacement of people. Many are refugees fleeing conflict and persecution. Others, economic migrants, prepared to risk everything on perilous sea crossings in the desperate search for a better life for themselves and their children. Through this migration, we also see the challenges of economic inequality between countries and within them. This inequality, together with weaknesses in the global trading system, threatens to undermine support for the forces of liberalism and free trade that have done so much to propel global growth. And it is pushing some countries towards protectionism in the belief that this best defends the interests of their own people.
And as the global system struggles to adapt, we are confronted by states deliberately flouting for their own gain the rules and standards that have secured our collective prosperity and security. The unforgiveable use of chemical weapons by the Syrian regime against its own people and perhaps foremost in our minds today the outrageous proliferation of nuclear weapons by North Korea and a threat to use them.
I believe that the only way for us to respond to this vast array of challenges is to come together and defend the international order that we have worked so hard to create and the values by which we stand. For it is the fundamental values that we share, values of fairness, justice and human rights, that have created the common cause between nations to act together in our shared interest and form the multilateral system. And it is this rules-based system which we have developed, including the institutions, the international frameworks of free and fair trade, agreements such as the Paris Climate Accord and laws and conventions like the Non-Proliferation Treaty, which enables the global cooperation through which we can protect those values.
Indeed, the defining purpose of the UN Charter is to maintain international peace and security, to develop friendly relations among nations, to achieve international cooperation in solving problems of an economic, social, cultural or humanitarian character; and to be a centre for harmonising the actions of nations in the attainment of those common ends. And I do not see these as vaunted ideals to be held for their own sake. These values and the rules they imbue are central to our national interest, to our security and prosperity. And the international system with the UN at its heart is the amplifying force that enables countries to cooperate and live up to the standards in word, spirit and deed, to our collective and individual benefit.
If this system, we have created is found no longer to be capable of meeting the challenges of our time, then there will be a crisis of faith in multilateralism and global cooperation that will damage the interests of all our peoples. So those of us who hold true to our shared values, who hold true to that desire to defend the rules and high standards that have shaped and protected the world we live in, need to strive harder than ever to show that institutions like this United Nations can work for the countries that form them and for the people who we represent.